Routine Front Loader Dumpster Service with No Hidden Fees from 413 Dumpster™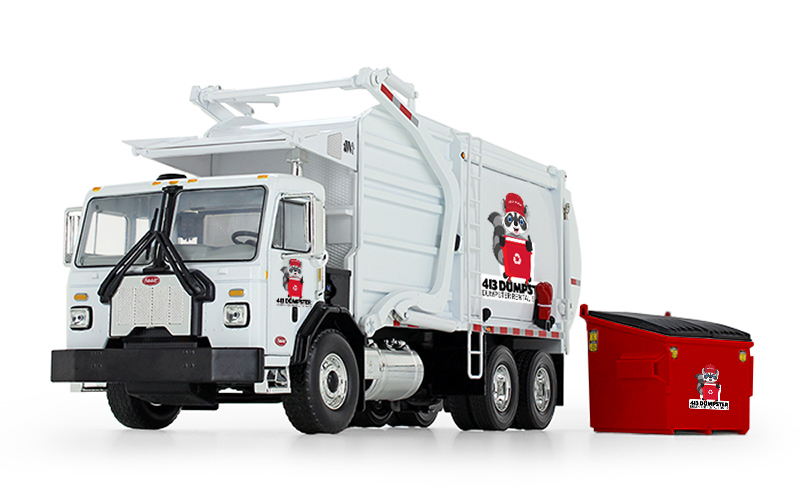 Weekly, Monthly, and Custom Dumpster Service from 413 Dumpster™
413 Dumpster™ has quickly grown to become Western Massachusetts' premier local waste and refuse handling service. We understand the value of properly serving the Western Massachusetts community because this is where we are from. Trust your needs with our friendly customer service team, brand new equipment, and the best rates on offer in the area. Our fleet of brand new front load dumpsters come in all sizes, including 2 yd, 4 yd, 6 yd, 8 yd and 10 yd dumpsters. Contact us for your trash needs and experience the 413 Dumpster™ difference!
Contact Us for a Service Quote!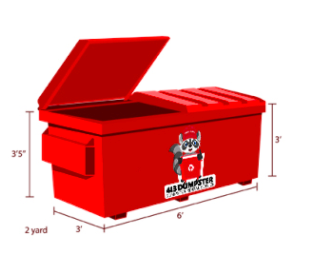 2 YD Dumpster
A 2 yard dumpster is the smallest offered. It is perfect for small restaurants, small businesses, residences, or medical clinics. It roughly holds 14 bags of trash.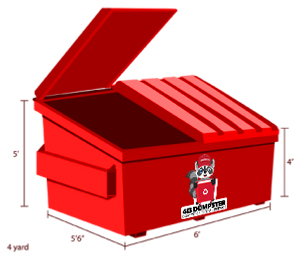 4 YD Dumpster
A 4 yard dumpster is a great option for small businesses. It is perfect for restaurants, stores, clinics, and more. It roughly holds 28 bags of trash.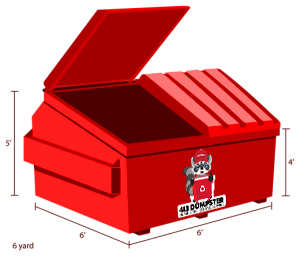 6 YD Dumpster
A 6 yard dumpster is one of the most commonly rented dumpsters. It is perfect for restaurants, larger stores, larger clinics, and more. It roughly holds 40 bags of trash.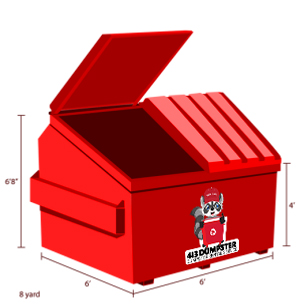 8 YD Dumpster
An 8 yard dumpster is the second largest front load dumpster made. It is perfect for larger retailers, facilities, restaurants, plazas, and more. It roughly holds 52 bags of trash.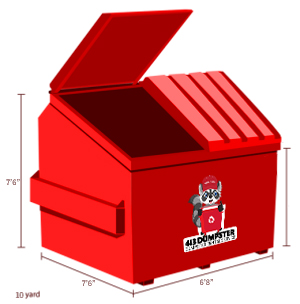 10 YD Dumpster
A 10 yard dumpster is the largest dumpster offered in the front load dumpster style. It is perfect for grocery stores, plazas, larger businesses, and more. It roughly holds 64 bags of trash.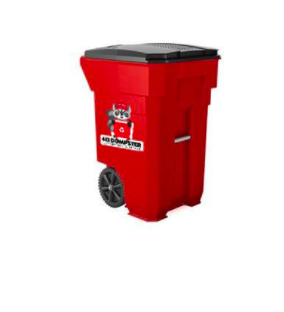 30 Gal. Tote Can
Our 30 gallon tote is perfect for festivals, weddings, events and more. Let 413 Dumpster handle your waste at your next event with service as required!
We offer pricing with no hidden fees. You will never see environmental fees, administration fees, refresh rates, or any other hidden fee on top of our rates. Our best in class pricing includes everything - tax, free initial delivery, and continued dumpster service for your business.

Please note: construction waste, including concrete, bricks, tiles, shingles, and wood are prohibited from front load dumpsters. All front load dumpsters have a 1 ton limit. Exact dimensions may vary.
413 Dumpster™ is a local, independent alternative for recycling, waste and refuse removal. We know 413 Dumpster™ can save your business money, and encourage you to contact us to discuss the specific waste needs of your business!