We are 413 Dumpster™ - Your Local Leader in Trash!
413 Dumpster Rental™ and Waste Services is a local leader in local waste removal. 413 Dumpster™ is a locally owned, father and son company that offers waste removal services with the best rates possible and the biggest emphasis on exceptional customer service. Headquartered at 6 West State St., in Granby, MA, 413 Dumpster™ provides an independent alternative to waste removal and recycling needs through Western Massachusetts.

413 Dumpster, Inc., has been in the waste industry since 2008. Our highly trained drivers, state of the art equipment, and customer care team at our call center is looking forward to helping you find solutions for your residential or commercial waste removal needs. We always offer the lowest price we can, never have any hidden fees, and strive to go above and beyond for every customer who uses our services.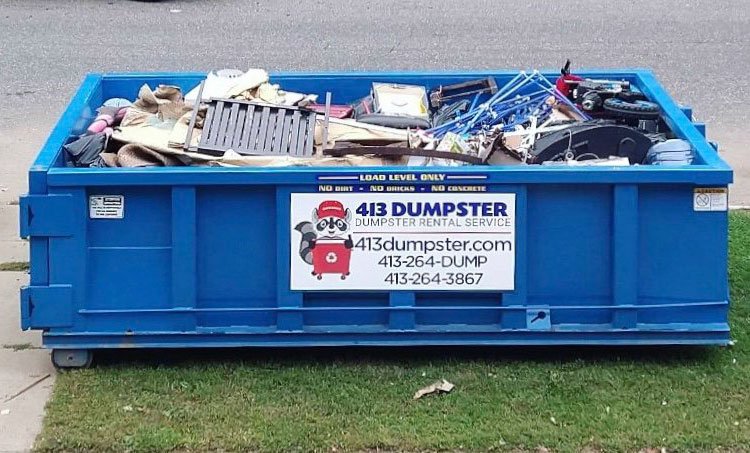 Residential Dumpster Rental in Western MA from 413 Dumpster™ Rentals – Complete Your Home Project
Residential dumpsters are designed to hold all of the debris, and waste material created from the result of renovation, remodeling, cleaning, and moving. You can peacefully start your household projects without worrying about the waste material. Compile all of your junk in one easy to use residential dumpster. The versatility of residential dumpsters gives homeowners the ability to place the container in hard to reach areas.
Commercial Roll Off Dumpsters in Western MA – Custom Rental Periods for Every Size Project
We specialize in working with businesses and contractors. By renting a container from us, you can check trash removal off your list and get back to work. Our dumpster rental process in the Springfield, MA area is refined with businesses in mind by having a one stop shop for all construction dumpster sizes. We work with each customer to place the container strategically on the job site so that getting rid of debris is easy.